Products
ATOMY Everyday product are items that everyone needs in their daily life – from HemoHIM to health care, personal care, home care, food and more. The uniqueness of ATOMY products are that they are "curated" and "mass-tige" products – all for the benefit of customer success. The company was build from the ground-up and across the supplier ecosystem for this value proposition for the customer.
"CURATED" means only the "best of the best" of each item is selected/offered – not thousands of choices of the same item. This save customer time to select and saves the cost of returning inferior products. This ATOMY "curated" product policy is like in a high end museum – where only the masterpieces are shown on the walls in a museum – while the #2 piece (on down) are stored in the museum's warehouses.
"MASS-TIGE policy means products have both 'Absolute High Quality' at 'Absolute Low Price'. High Quality like the best brands sold in top department stores WITH Absolute Low Price – at the same or lower price than a discount store, home TV shopping or discount webstore. Yes this low price is everyday of the year. Thus, preTIGE products for the everyday MASSes of people – "MASS-TIGE".
ATOMY Product Categories are HemoHIM, Health Care, Skin Care, Personal care, Home Care, Food, Lifestyle, and others.
You already buy these types of daily consumer goods elsewhere. Just shift to your own personal ATOMY online shopping platform. Easy, Peasy!
---
ATOMY Blockbuster Products
One ATOMY Blockbuster product is HemoHIM – the patented (7 countries), herbal immunity booster, that helps people with many conditions – and is nicknamed the "General Hospital Supplement".
Another ATOMY Blockbuster product is Absolute Skincare Set which is highly functional with special Epidermal Growth Factor (EGF) technology for de-aging and targeted delivery technology!
ATOMY is the exclusive global distributor of ATOMY HemoHIM, ATOMY Absolute Skin Care and the ATOMY brand of products.
---
ATOMY Consumer's Favorite Products Introduction Video [7min]
"ATOMY Favorites Product Introduction by Angie Kim"
Hear about some ATOMY Favorites in this engaging Product Introduction video by Angie Kim.
---
ATOMY Products Introduction Video [21 Min]
This ATOMY Products Introduction by DM Emily Lim at USA New Jersey Success Academy is a good general overview of ATOMY product categories and includes descriptions of various product's purpose, ingredients, and technologies. Categories covered include HemoHIM, Health Care, Skin Care, Personal Care, Home Care, and Food.
---
The Official ATOMY Online Shopping Mall
REMEMBER
Did you know that only by shopping on the official ATOMY online shopping mall will you receive genuine ATOMY products and valid ATOMY loyalty Point Value (PV) for generous cashback rebates?
ATOMY Official Online Shopping Mall [Screen Image]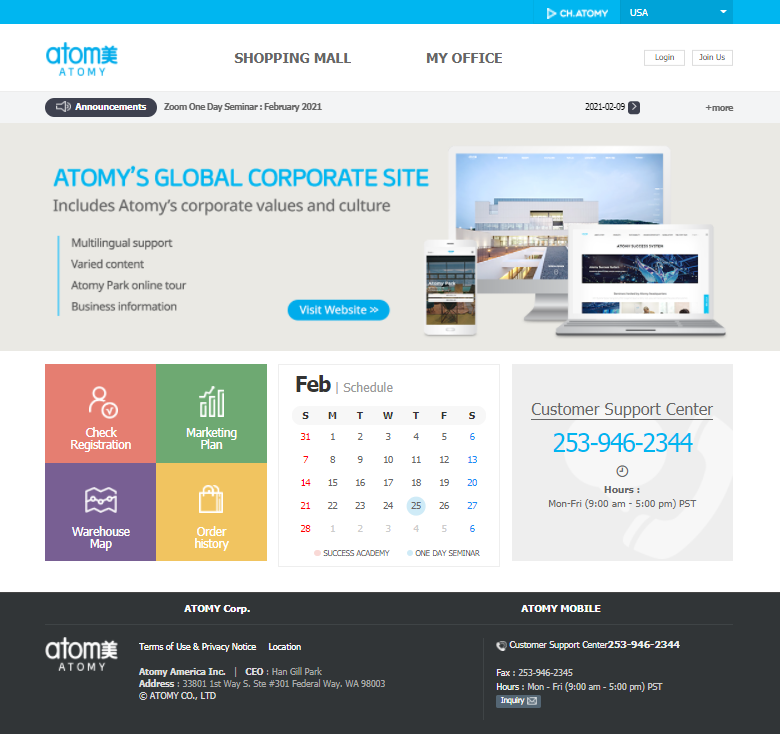 Note: ATOMY also offers a free mobile app to members.
ATOMY OFFERS Absolute High Quality Everyday Consumer Goods at Absolute Low Prices
This is ATOMY'S "Mass-Tige" Product Strategy – namely, luxury quality goods for everyone to enjoy!
Become a FREE ATOMY Member
Did you know ATOMY Registration Sponsor ID (1 time use) is the free code REQUIRED to JOIN ATOMY? You use this free ID code to complete your ONLINE REGISTRATION on the official ATOMY Online Shopping Mall https://www.atomy.com/us/home
---
Curious About What Consumers Say Of Their ATOMY Experiences?
Specific Product Videos are available on the Product Category Pages on our sister website ATOMYEVERYDAY.COM which is focused on guiding ATOMY Consumers.
---
Questions